The Science of Comfy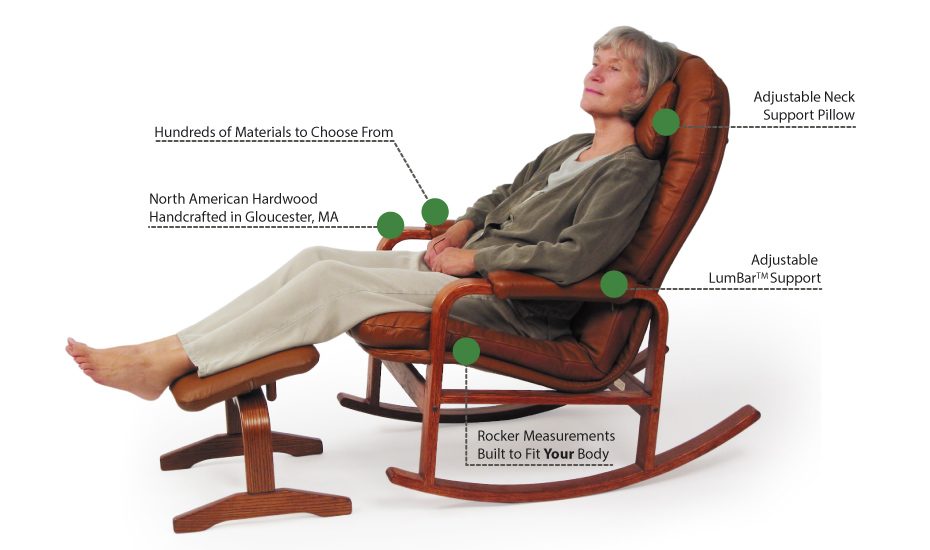 Brigger furniture is comfortable by design
The perception of comfort is a personal matter. There is the first impression when sitting down in a chair, followed by the experience of relaxed sitting in the long term. Both need to be fully satisfying for a positive judgment of the comfort of a seat. Brigger chairs will not disappoint. After over 30 years of the most positive feedback from our customers, virtually no returns, many repeat orders, and many requests to supply new upholstery after years of intensive use, we know that our customers trust our word and that they love Brigger comfort.
Brigger Furniture Is Made To Fit The Body
Ergonomics is the science of making your seat comfy. Brigger seats hug the body and are shaped to provide optimal body support.The seat is shaped to envelope your body with proper cushioning and support that help you to sit in a healthy and ergonomic posture. Seats are made to fit your body by varying their depth, height, width, and angle, as well as the back height of the chair to match your personal preferences of how you want to sit. With adjustable lumbar support and body-conforming padding you will enjoy unique Brigger comfort.
Fitting Center
Comfort is experienced when your posture is correct and you get support where your body needs it. We show you how to take your measurements in the Fitting Center where you chose the:
Seat Depth to experience lumbar support without undue pressure behind the knees,
Seat Width of the chair to give your body room to relax.
Back Height from low-back to extra high-back.
Experience support of your neck and head with an adjustable headrest. We guarantee a result that will please your body and fit your personal style.
Visit our Fitting Center to size the model that is right for your body.
LumBar
Whatever its specific purpose, a chair needs to provide support in the lumbar region of the back. Lower back support is provided by the LumBar ™, a special feature of Brigger seats, which adjusts up and down to meet any personal needs. The LumBar is accessible through a zippered opening in the sling and its bulk can be increased to fine-tune the amount of lumbar support.
Posture
Medium and high seat backs come with customer selected steepness that determines sitting posture and support of shoulders, neck and head. High-back seats include a movable head rest with zippered opening in the back to allow changing the amount of stuffing as needed.
Built With Quality Materials
The ergonomic features of the Brigger seat
Brigger seats combine a sling covered metal frame that is contoured to fit your body, and a unitary upholstered cushion that provides softness for the seat. The sling and cushion are made from the same upholstery material. The sling is reinforced with non-woven material to prevent stretching and sagging of the seat and to provide lasting seat support. The cushion is filled with urethane foam and wrapped with soft polyester. Point tufts in a choice of patterns stabilize the seat cushion. Our seat cushions support your body from the knees to whatever back height you choose. High-back seats include an adjustable Head Rest. Optional Arm Pads than can be zippered on.
By scaling the seat to satisfy your personal measurements (see Fitting Center) and providing ergonomic support, Brigger seats will be experienced as most comfortable, especially when sitting for extended times.
The innovative LumBar provides lower back support and can be adjusted up or down to meet your personal needs. It is attached to the metal frame inside the sling and can be accessed via a zipper behind the cushion.
Resilient urethane foam in the seat provides support without sagging or sponginess
Extra padding for behind- the- knee support.
Soft padding for the back and shoulders.
Highback seats include a movable headrest which supports neck and head.
Optional Arm Pads zip on or off easily.
---
Zero Gravity Ergonomic Comfort
"Zero Gravity" we cannot experience on earth, but the horizontal comfort position astronauts assume during lift-off supports the body evenly and is at its most comfortable.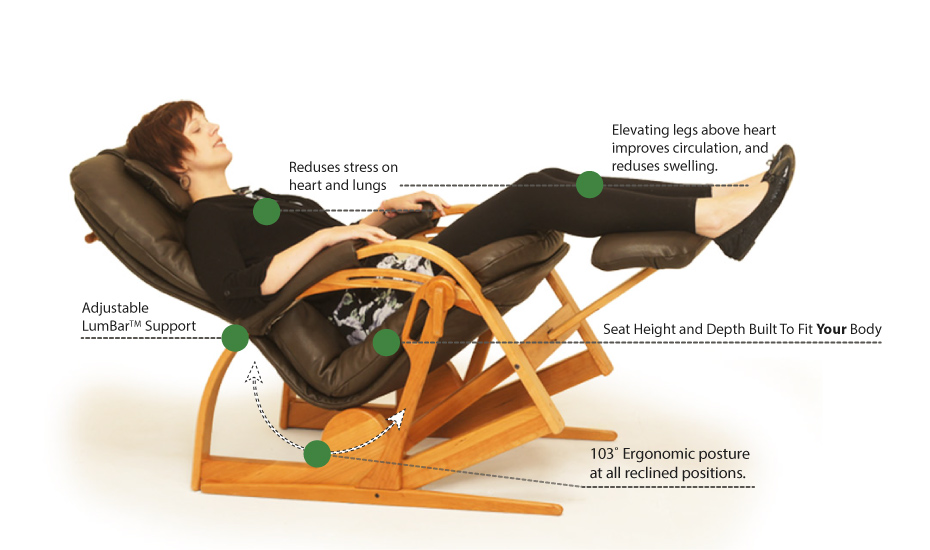 No wonder recliners that take you to the near horizontal, have acquired the connotation of "zero gravity" ultimate comfort, as the pressure on your spine recedes and your heart is relieved. Add the ergonomic profile of the back and you realize why the reclined position really is utterly relaxing.
We call our's the FlipFlop recliner because it allows you to flip from the upright sitting posture to zero-gravity-like relaxation with a simple foot initiated flip to the horizontal. The return trip is equally direct. The round trip makes you move your muscles both on the way up and down. In between in the reclined position, both back and heart relax We call it active relaxation. It's healthy, 'zero gravity', and its fun.
The Ultra Recliner does the same but lets you lock your "zero gravity" recliner in any in-between position that you find restful or suitable for your favorite pass-time.